Minesweeper Android Game with Ads
Description
Classic MineSweeper game with three levels. A easy method to toggle flagging mode.
You are presented with a board of squares, each with a cover. Some squares contain mines under the covers. If you open a square containing a mine, you loose. If you open all squares without mines, you win. Opening a square which doesn't have a mine reveals the number of neighboring squares contain mines. Use this information plus some guess work to avoid the mines.
Tap on any blank revealed square as a quick way to toggle flagging mode. All the blank revealed squares will turn green letting you know its safe to place flags.
After flag neighboring mines, tap on number to open neighbors without mines automatically.
Tap on the yellow smile face to start a new game. Flip to translate the board in normal and hard game.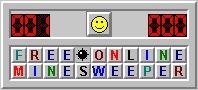 Features
- Beautiful graphic UI
- Highscore saved - Three basic level - Install on SD card
– ADMOB Integrated, be able to add other advertisement (like Startapp, Revmob,etc.)
– Java code, easy to import into Eclipse, Intelliji or Android Studio -
- Real animal sound

The Support:
We provide full support so when you have questions, we're here to answer. Don't hesitate to ask us any questions.